KOSZTY WYSYŁKI
NASI KLIENCI - CO ZYSKUJĄ?

CO NAS WYRÓŻNIA SPOŚRÓD INNYCH?!

Należymy do czołówki polskich sklepów internetowych zajmujących się hurtową i detaliczną sprzedażą artykułów eksploatacyjnych do wszelkich urządzeń drukujących.
Oto co dajemy dodatkowo, naszym zarejestrowanym Klientom:


1. Dokonuj zakupów i korzystaj ze swojej STREFY KLIENTA 


po rejestracji otrzymasz możliwość do zarządzania swoim kontem:
"Moje dane" - tutaj szybko zmienisz swoje dane, hasła...
"Zamówienia" - będziesz miał wgląd we wszystkie dotychczas złożone zamówienia w magusz.com.pl
"Moje prezenty" - to właśnie tu dokonujesz wyboru jaki prezent wybrać. Bez haczyków, dodatkowych warunków...
POPROSTU... KUPUJESZ A W ZAMIAN NAGRADZAMY CIĘ!


2. Wybieraj i odbieraj swoje prezenty w trakcie każdego zamówienia lub po kilku zamówieniach.

Żółta linia wskazuje i odsłania (adekwatnie do wartości zakupionych towarów) prezenty, które odbierasz przy kolejnym zamówieniu.
Im więcej i dłużej kupujesz tym linia odsłania droższe, ciekawsze propozycje produktów...
sam zdecyduj, czy nagrodę odbierzesz od razu, czy po kilku zamówieniach

żółta linia wskaże Ci, które prezenty możesz zamówić... 

po kliknięciu w obrazek, pod wykazem nagród, pokaże się opis intersejącego Cię artykułu
3. Miej kontrolę nad wszystkimi zamówieniami składanymi w naszym sklepie magusz.com.pl

lista zamówień poda ci wszystkie informacje dot. składanych zamówień

za każdym razem będziesz mógł wracać do tego, co już kupiłeś

5. Za każdym razem, szybko znajduj kupowane u nas artykuły i ponawiaj zamówienia...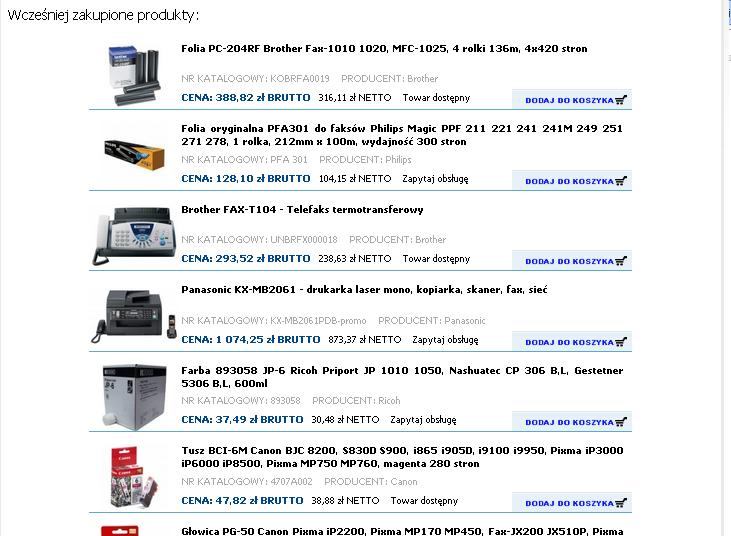 tu znajdziesz jednostkowy wykaz produktów, które kupowałeś

dzięki temu szybko znajdziesz i ponownie kupisz to czego właśnie potrzebujesz.
Zapraszamy do sprawdzenia naszych możliwości.
Zespół sklepu magusz.com.pl